A. H. Riise
Rum labels
Rum bottles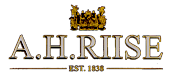 ---
History
After a severe hurricane ravaged St. Thomas in 1837, Copenhagen granted an exclusive license to Albert Heinrich Riise to dispense retail drugs on the Danish island.
In 1913, the Riise family business was sold to Olaf Poulsen, a pharmacist from Copenhagen. Four years later, the Virgin Islands were bought by the United States. In 1928, Isaac Paiewonsky purchased the Riise company. After World War II, his wife Charlotte and his sons Ralph and Isidor expanded the business and its products even further-becoming "the" place to shop in the islands. In 1961, Ralph Paiewonsky left the family business to become governor of the U.S. Virgin Islands. Today, A. H. Riise Gifts and Liquor Store is run by Charlotte and Isaac's daughter, Avna Paiewonsky Cassinelli, and her sons, Sebastiano and Filippo.
These custom rums are distilled by the Cruzan Rum Distillery Company, Ltd., and then blended by A. H. Riise.
---
A company rich in history and tradition, A.H. Riise first opened its doors as the A.H. Riise Apothecary in 1838.
---
From the list of licenses for the distillation of rum:
A.H. Riise (operated ba Isaac Palewonsky):
Office, 6 and 7 Dronningens Gade, St. Thomas, Virgin Islands;
plant, 6 and 7 Dronningens Gade and 35 and 36 Dronningens Gade, St. Thomas, Virgin Islands.
---
---
---
Here are full texts from the labels
vi18: Light; White Label; Old St. Croix; Reg. US pat. off; The world's Columbian Exhibition Chicago 1893; Imported West Indies Rum; Distilled in the Virgin Islands by A.H. Riise; Est'd 1838; This brand was awarded the centennial medal with diploma at the Chicago Exhibition in 1893 for excelence
vi1: Light; White; Old St. Croix; Reg. US pat. off; Brand; The world's Columbian Exhibition Chicago 1893; fine Virgin Islands Rum; Distilled in the Virgin Islands by Est'd 1838; A.H. Riise Distillers Co.; 750 ml; 40% alc/vol (80 Proof); This brand was awarded the centennial medal with diploma at the Chicago Exhibition in 1893 for excelence
vi8: Dark; Gold; Old St. Croix; Reg. US pat. off; Brand; The world's Columbian Exhibition Chicago 1893; fine Virgin Islands Rum; Distilled in the Virgin Islands by Est'd 1838; A.H. Riise Distillers Co.; 750 ml; 40% alc/vol (80 Proof); This brand was awarded the centennial medal with diploma at the Chicago Exhibition in 1893 for excelence
vi_78: A.H. Riise; 24x; 5712421480006
vi_57: A.H. Riise; Est 1838; X.O. Reseve Rum; Super premium single barrel rum; Distilled for, agged and bottled by Dansk-Vestindisk Rom Kompagni; Bottle Number 313; Cask: 9; Batch: 1; Bottling date: 15.04.13; Volume - ml 700; Alc by vol % 40; Approved by A.H. Riise; Product of West Indies
vi_62: A.H. Riise; Est 1838; X.O. Reseve Rum; Limited Edition; Sauternes Cask Rum; Distilled for, agged and bottled by Dansk-Vestindisk Rom Kompagni; Bottle Number 001; Vintage: 2013; Volume - ml 700; Alc by vol % 42; Approved by A.H. Riise; Product of West Indies
vi_63: A.H. Riise; Est 1838; X.O. Reseve Rum; Limited Edition Rum; 175 Years Anniversary; 1835 - 2013; Distilled for, agged and bottled by Dansk-Vestindisk Rom Kompagni; Bottle Number 0001/5000; Volume - ml 700; Alc by vol % 42; Approved by A.H. Riise; Product of West Indies
vi_79: A.H. Riise; Est 1838; X.O. Ambre d'Or; Limited Edition Rum; 5712421470007
vi_64: A.H. Riise; Est 1838; X.O. Royal Reseve Rum; Spicial Edition Rum; Kong Haakon Rum; Distilled for, agged and bottled by Dansk-Vestindisk Rom Kompagni; Bottle Number 001; Batch Number: 001; Volume - ml 700; Alc by vol % 42; Approved by A.H. Riise; Product of West Indies
vi_65: A.H. Riise; Est 1838; X.O. Reseve Rum; Limited Edition; Port Cask Finish Rum; Distilled for, agged and bottled by Dansk-Vestindisk Rom Kompagni; Bottle Number 001; Vintage: 2014; Volume - ml 700; Alc by vol % 45; Approved by A.H. Riise; Product of West Indies
vi_69: A.H. Riise; Est 1838; X.O. Christmas Rum; 4005563382521
vi_70: A.H. Riise; Est 1838; X.O. Reserve Rum; Special Edition Rum; The Thin Blue Line Denemark; Stot Dansk Politi; 5712421014706
vi_68: A.H. Riise Copenhagen; Gold Medal Rum; Special Edition Rum; En Nordske Industri; Landbrurgs & Kunstudstilling, 1 Kjobenhavn 1888; La Gourmandie Rhumerie; 5712421012801
vi_58: Royal Danish Navy Rum; Est 1838; A.H. Riise; St. Thomas, W.I.; Copenhagen Denmark; 70 cl; 40% vol
vi_71: Royal Danish Navy Frogman Rum; A.H.Riise St. Thomas, W.I.; Copenhagen Denmark; 70 cl; 58% vol; 5712421013204
vi_59: Royal Danish Navy Rum; Est 1838; A.H. Riise; St. Thomas, W.I.; Copenhagen Denmark; 70 cl; 55% vol; Navy Strength; Original
vi_76: Fregatten Jylland Danish Nawy Rum; Est 1838; A.H. Riise; St. Thomas, W.I.; Copenhagen Denmark; 35 cl; 45% vol;
vi_60: A.H. Riise; Est 1838; Family Reserve Solera 1838 Rum
vi_61: A.H. Riise; Est 1838; Non Plus Ultra Very Rare Rum
vi_72: A.H.Riise Non Plus Ultra Sauternes Cask; Est 1888; 5712421014003
vi_73: A.H. Riise; Est 1838; Non Plus Ultra Very Rare Rum; 5712421014201
vi_75: A.H. Riise; Est 1838; Platinum Reserve; St. Thomas, West Indies; Copenhagen, Denmark; 5712421014102
vi_74: Black Barrel Nawy Spiced Rum
vi_66: A.H. Riise; Est 1838; Rum Clear Liqueur; Made with fresh cream an X.O. Rum; 70 cl e; 7% vol
vi_67: Royal Danish Navy Westindian Bitter; Est 1838; A.H. Riise; St. Thomas, W.I.; Copenhagen, Denmark; 70 cl; 32% vol
vi_77: A.H. Riise Centennial Celebration Rum; Est. 1838; Celebrating the 100 th. Anniversary of the Transfer of the Danish Westindies to the United States of America; 1917-2017; 5712421013303
vi19: A.H. Riise X.O. Reseve; Super Premium Single Barrel Rum; Bottle number: 176; Cask: 13; Batch: 1; Bottling Date: 15.4.2013; Volume - ml: 700; Alc by vol. %: 40; Distilled for, Agged and Bottled for Dansk-Vestindisk Rom Kompagni; Approved by A.H. Riise; Product of West Indies
vi~7: A.H. Riise; Est 1838; X.O. Reseve Rum; Limited Edition; Christmas Rum; Distilled for, agged and bottled by Dansk-Vestindisk Rom Kompagni; Bottle Number 85; Vintage 2012; Volume - ml 700; Alc by vol % 40; Approved by A.H. Riise; Product of West Indies; 4005563382521
vi~8: A.H. Riise; 1838; Copenhagen; Gold Medal; Rum; Special Edition Rum; En Nordiske Industri, Landbrugs & Kunstudstilling, I Kjobenhavn 1888; Product of West Indies; 5712421012801