Dogfish Head Craft Brewery, Milton, DE
Rum labels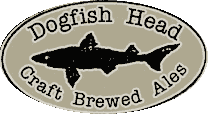 ---
History
Company was established in 1995.
---
The story of Dogfish Head began in June of 1995 when we opened Dogfish Head Brewings & Eats, the first state's first brewpub opened in the resort beach community of Rehoboth Beach, Delaware. The plan was to bring original beer, original food, and original music to the area.
We outgrew our distributing brewery in a couple years and in the summer of 2002; we moved our entire production brewery up the road to Milton, Delaware into a 100,000 square foot converted cannery. Around the same time (just to keep thing interesting), we built a distillery on the second floor of our Rehoboth Beach brewpub, so we could make vodka, rum and gin.
We´ve been making more and more beer every year and shipping it out to drinkers across the country. In 2005, we entered a licensing agreement that allowed for the first Dogfish Head Alehouse to open in Gaithersburg, Maryland. A second Alehouse in Falls Church, Virginia followed in 2007. Guests at both Alehouses can now enjoy the same Dogfish Head beers, spirits, and wood–grilled food that we´ve been serving up in Rehoboth Beach for more than twelve years!
---
Dogfish Head Spirits are hand-distilled in our small pot still upstairs in our Rehoboth Beach brewpub. Just as our brewery has become known for brewing beers with non-traditional ingredients like raisins and maple syrup, our spirits recipes are equally extraordinary!
The distillery is tiny, but we do currently distribute Dogfish Head Spirits throughout Delaware and in parts of Maryland and New Jersey.
---
---
Here are full texts from the labels
us_379: Dogfish Heqad Rum
us_180: Dogfish Head; Brown Honey Rum
us_181: Dogfish Head; Wit Spiced Rhum