Phillips Beverage Company
Rum labels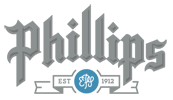 ---
History
Company was established in 1912.
---
1899
Edward Phillips and his family emigrate from Minsk, Russia to Manitowoc, Wisconsin on the shores of Lake Michigan.
1912
At the urging of his son Jay, a newspaper boy, Ed Phillips starts Ed Phillips & Sons, a wholesaler of candy, newspapers and magazines.
1933
The 21st Amendment ends Prohibition and within months Phillips becomes the exclusive distributor for Hiram-Walker and Schenley, two of the largest distillers.
---
---
Here are full texts from the labels
us25: Phillips Smooth and Dry Preferred Rum; 40% alc/vol (80 Proof); Enjoy in Moderation; Made in U.S.A.
us_162: Phillips Raspberry Long Island Iced Tea Blend; Enjoy in Moderation
us_163: Phillips Long Island Iced Tea Blend; Enjoy in Moderation