Cachaca Colonial, Ceara / Colonial Indústria de Bebidas LTDA.
Rum labels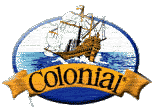 ---
History
Cachaça Colonial bears the concept of tradition in its name. A story which began more than 80 years ago, following the initiative of a pioneer, Tibúrcio Targino, who implanted planting and production methods of cachaça which has been transmitted and modernized from one generation to the next, with all the quality that the sugarcane grown by Cachaça Colonial has to offer.
It all began in 1923, at the farm called Sítio Colégio, located in the county of Aquiraz. With the increase in production, Cachaça Colonial began expanding its sugarcane plantations to the farming properties called Jaçanaú and Colonial. Today, the company is responsible for a product of superior quality, appreciated throughout the Brazil and the world for its purity and smoothness. This is possible because in a shot of Cachaça Colonial, you find the best of the sugarcane and careful aging process, in addition to the packaging process technology.
---
---
---
Here are full texts from the labels
br_302: Corteudo liq: 600ml; Fermentado, destilado; Colonial; Marca registrada; Aguardente de cana; Produzida e engarrafada por a Targino & Filhos LTDA; Fabricas: Sito Colegio - Aquiraz - Ceara; Sito Jacunau - Marahguape - Ceara; Engarrafamento: Rua 1°, De Janeiro, 200 Fortaleza - Ceara - Brazil
br_296: Tradicional Cachaca do Ceara; Colonial Cristal; Produzida desde 1923 pela familia Targino no Sitio Colegio - Aquiraz - CE; 39°; 960 ml
br_297: Tradicional Cachaca do Ceara; Colonial Clássica; Produzida desde 1923 pela familia Targino no Sitio Colegio - Aquiraz - CE; 39°; 960 ml
br_298: Colonial Guaramiranga GOLD and SILVER; Produzida desde 1923 pela familia Targino no Sitio Colegio - Aquiraz - CE; 39°; 960 ml
br_299: Colonial in a coconut; 39°; 500 ml
br_300: Colonial Lemon; Produzida desde 1923 pela familia Targino no Sitio Colegio - Aquiraz - CE; 30°; 500 ml
br_301: Colonial Tangerine; Produzida desde 1923 pela familia Targino no Sitio Colegio - Aquiraz - CE; 30°; 500 ml