Bully Boy Distillers, Boston, MA
Rum labels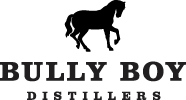 ---
History
Company was established in 2010.
---
Bully Boy Distillers is owned and operated by brothers Will and Dave Willis, who were inspired by their childhood home and fourth-generation working family farm. During prohibition the farm was home to an enviable collection of local artisan spirits, which were stored in a vault in the farmhouse basement (see picture). With names like "Medford Rum" and "Cow Whiskey," these precursors to today's craft spirits were harsh and remarkably undrinkable, but they had character.
Roughly 70 years after Prohibition was abolished the vault was rediscovered. Though covered in dust and cobwebs, it was inspiring, and the idea for a distillery that continues the legacy of artisan distilling in Massachusetts was hatched.
Paying particular attention to the caliber of ingredients used in its products, Bully Boy hand-produces premium spirits in small batches, emphasizing quality over quantity. As homage to the farm, the distillery is named after Bully Boy, a favorite farm workhorse. Will and Dave's great-grandfather named his beloved horse using a term coined by his college roommate Teddy Roosevelt – "Bully" – meaning superb or wonderful.
Bully Boy Distillers is proud to carry on Boston's tradition of small-batch distilling, and we look forward to stocking your liquor cabinet with handmade beverages that taste as superb as the quality of their ingredients. Bully for you.
---
---
Here are full texts from the labels
us_299: Bully Boy Distillers; White Rum; Handmade in Boston; 40 % alcohol; 750 ml
us_300: Bully Boy Distillers; Boston Rum; Handmade in Boston; 40 % alcohol; 750 ml
us_301: Bully Boy Distillers; Boston Rum; Handmade in Boston; 40 % alc/vol; 750 ml