»
Rumregionen
»
Britische Virgin-Islands
» Pusser's Rum Ltd.
Pusser's Rum Ltd.
Nur 4 Etiketten von insgesamt 7 sind hier ausgestellt. Die anderen unterscheiden sich nur in Kleinigkeiten.
Rum-Etiketten
Meine vollen Rumflaschen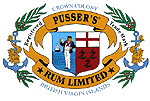 ---
Geschichte
The sea and rum are synonymous, and no rum more akin to the sea and the seaman than PUSSER'S. For more than 300 years, from before the days of Nelson, wooden ships and iron men, Great Britain's Royal Navy issued a daily rum ration on board Their Majesties' ships. This tradition, one of the longest in seafaring history, continued unbroken from 1655 to July 31, 1970, on which day the Navy stopped their daily issue of Pusser's rum.
Pusser's Rum was never sold or offered to the public. If a connoisseur was fortunate enough to obtain a 'tot' or two, he saved it for a very special occasion. Pusser's Rum is said to be more akin to a fine brandy than a rum. Its full rich flavor is unsurpassed by any other rum. If you truly enjoy the flavor of rum, then the rich flavor of Pusser's -- like no other rum -- comes through whatever you may choose to mix it with.
In 1979, Charles Tobias formed Pusser's West Indies in the British Virgin Islands and undertook to resurrect the Pusser's Rum tradition with which he was familiar. After much persuasion, the Admiralty Board of the Royal Navy gave him the blend for the rum and shortly afterwards, Pusser's Rum was being shipped commercially for the first time. In return, the Royal Navy Sailor's Fund, a naval charity, receives a substantial donation from the sale of each case. This contribution, aside from the Fund's original bequest, is the Fund's largest source of income.
---
In 1979 ex-US marine, Charles ('Chuck') Tobias formed Pussers Limited and built a blending and bottling plant on Tortola in the British Virgin Islands to which he imported pot-still rum distillate from Guyana and Trinidad. He joined forces with ED & F Man of London (they had been Admiralty rum brokers from 1798 to 1970). With the approval of the British Admiralty, who gave permission for the royal ensign to be used on the label, Tobias called his dark product 'British Navy Pusser's Rum' 'pusser' being a corruption of 'purser', the man on a naval ship who supervised the serving of the rum issue. Tobias claimed his drink was blended on Tortola, 'in strict accordance with Royal Navy tradition, and its powerful 95.5 proof strength is exactly the same as the rum served to Nelson's sailors'. In return for receiving the 'secret recipe' from the Admiralty with the help of ED & F Man, Tobias donated 10,000 to the Royal Navy Sailor Fund and agreed to give a further one pound to it for every ninety-seven pound case he sold. Schenley International undertook to handle what were expected to be large sales in the United States. 'The swing internationally' Chuck Tobias is quoted as saying about what he claimed to be the first 'de-luxe' rum, at its launching in 1980, 'is definitely away from those negative mixer-base spirits'.
---
Owner of Trade mark for PUSSER'S GROG Pusser's Rum Limited.
---
The Pusser's brand was sold to Jim Beam Brands more than a decade ago so that Pusser's Rum Company stores could expand to the US. But now Jim Beam has sold the brand back to investors from, I'm told, the British Virgin Islands.
While Pusser's that we know today isn't the original it is fairly close. The British Admiralty shared the recipe with Charles Tobias who founded the company in the late 70s.
---
---
---
Hier finden Sie die Volltexte der Etiketten
vg5: A Connoisseur's Spirit of Exceptional Quality Expertly Blended Pusser's; From six of The World's Finest Caribbean Rums; Rum; Guyana - Trinidad - Tortola, British Virgin Islands; 47.75% alc/vol; 70 cl
vg1: A Connoisseur's Spirit of Exceptional Quality Expertly Blended Pusser's; From six of The World's Finest Caribbean Rums; Rum; Guyana - Trinidad - Tortola, British Virgin Islands; 47.75% alc/vol (95.5 proof); 750 ml
vg8: British Navy Pusser's Rum; 54.5% alc/vol (109 Proof); 70 cl; Bottled by Pusser's Rum Ltd, Tortola, British Virgin Islands; Product of British Virgin Islands, Trinidad and Guyana; Original Admirality Rum at issue strength
vg_20: British Navy Pusser's Rum; 40% alc/vol; 700 ml; Original admirality rum; Bottled by Pusser's Rum Ltd, British Virgin Islands; Product of Guyana, Trinidad and Barbados
vg_23: Original Pusser's Rum; 35% alc/vol; 700 ml; Spiced; Bottled by Pusser's Rum Ltd, British Virgin Islands; Product of Barbados
vg_21: British Navy Pusser's Rum; 54.5% alc/vol; 700 ml; Gunpowder Proof; Original admirality strength; Bottled by Pusser's Rum Ltd, British Virgin Islands; Product of Guyana, Trinidad and Barbados
vg_22: British Navy Pusser's Rum; Aged 15 Years; Aged In Charred Oak Barrels; Bottled by Pusser's Rum Ltd, British Virgin Islands; Product of Guyana; 40% alc/vol; 700 ml;
vg_7: British Navy Pusser's Rum
vg_10: I have not yet begun to fight; Commodore John Paul Jones; Mare septentrio pacificum; Mare meridies pacificum
vg_11: Admiral Lord Nelson; Palmam Qui Meruit Ferat; Mare meridies pacificum; Oceanus Arcticus
vg_12: British Navy Pusser's Rum; 95.5 Proof, 54% vol; 1.0 Litre; Bottled by Pusser's Ltd; Product of Guyana, Trinidad, Barbados and British Virgin Islands
vg_13: Nelson's Blood; British Navy Pusser's Rum; 750ml; 95.5 Proof, 47.75% alc/vol; Bottled by Pusser's Ltd; Product of The British Virgin Islands; Mare Meridies Pacificum; Oceanus Arcticus
vg_19: Yachting Decanter
vg10: Pusser's Navy Rum; Nelson's Blood; 40% alc/vol; Product of Trinidad, West Indies; Aged 15 Years; 70 cl; Bottled by Pusser's Rum Ltd., British Virgin Islands; The Original Navy Rum; Uniquely distilled in wood for more than two centuries
vg_16: Pusser's Painkiller
vg_17: Pusser's Original Grog
vg~1: British Navy Pusser's Rum; 54% vol, 109 Proof; 70 cl; Bottled by Pusser's Ltd, British Virgin Islands; Product of British Virgin Islands, Trinidad and Guyana
---