Maison Ferrand, Ars
Rum-Etiketten
Meine vollen Rumflaschen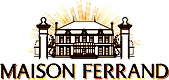 ---
Geschichte
Pierre Ferrand spirits brands: from father to son for five generations
Cognac

Ferrand Cognac is produced at Domaine du Logis d'Angeac, in the heart of Grande Champagne, premier cru du Cognac. With 170 acres of vineyard, Peirre Ferrand is one of the last independent Cognac producers in France. The producer's cellar masters have passed their expertise in blending Cognac from father to son for five generations.

Pierre Ferrand offers Cognacs of XO qualities ranging from 10 to 70 years, including a collection of four rare-vintage items from 1914, 1970, 1971 and 1973. Cognac brands include Ambre (10 years), Reserve (20 years), Selection Des Anges (30 years), Abel (45 years), Ancestrale (70 years), and Mémoires Single Vintage. All Cognacs come in 750 ml bottles. The Ambre is also available in 375 ml bottles.

Rum

Pierre Ferrand produces Plantation brand rums from the Caribbean, including Trinidad 1993, Barbados 1993, Guyana 1990, and Jamaica (aged 8 years). All products come in 750 ml bottles. The company carries a Grande Réserve rum from Barbados also available in 1.75 l bottles.
---
Maison Ferrand sídlí na zámku z 18. století Château de Bonbonnet.
The company was founded by Alexandre Gabriel in 1989.
Alexandre introduced Plantation Rums in 1999.
In March 2017, Maison Ferrand acquired the West Indies Rum Distillery in Barbados and one-third of the renowned, which owns Monymusk, Long Pond and Inswood distilleries.
---
---
---
Hier finden Sie die Beschreibung der Etiketten
fr_252: Grande Reserva; Plantation Rum Barbados
fr_253: Old Reserve 1993 destilled in Barbados; Plantation Rum Barbados
fr_403: Old Reserve 1991 destilled in Barbados; Plantation Rum Barbados
fr_1123: Old Reserve 1995 Plantation Rum Barbados; 45% alc/vol; 70 cl
fr_1140: 2000 Plantation Rum Barbados; 42% vol
fr_1148: Grande Reserve Plantation Rum Barbados; Aged 5 Years; 40% vol
fr_1141: 1998 Plantation Rum Grenada; 42% vol
fr_1122: Old Reserve 2001 Plantation Rum St. Lucia; 45% alc/vol; 70 cl
fr_251: Plantation Rum Jamaica; 8 years old; Monymusk Distillery; Column still + pot still Rum.
fr_1143: 2000 Plantation Rum Jamaica; 42% vol
fr_1121: Year 8 old; Plantation Rum Barbados
fr_255: Old Reserve 1993 destilled in Trinidad; Plantation Rum Trinidad; Caroni Distillery, Column still Rum
fr_1125: Old Reserve 1996 Plantation Rum Trinidad; 70 cl; Product of Trinidad
fr_1146: 2000 Plantation Rum Trinidad; 42% vol
fr_254: Old Reserve 1990 destilled in Guyana; Plantation Rum Guyana; UITVLUCHT Distillery, Westcoast Demerara
fr_1142: 1999 Plantation Rum Guyana; 45% vol
fr_1144: 1998 Plantation Rum Nicaragua; 42% vol
fr_1145: 2000 Plantation Rum Panama; 42% vol
fr_1147: Plantation Rum Original Dark; 40% vol
fr_1351: Plantation Rum 2003 Trinidad; Vintage Edition; Product of Trinidad; Grand Terroir
fr_1323: Plantation Rum 2005 Trinidad; Vintage Edition; Grand Terroir
fr_1352: Plantation Rum 2008 Trinidad; Vintage Edition; Grand Terroir
fr_1324: Plantation Rum 2005 Jamaica; Vintage Edition; Grand Terroir
fr_1342: Plantation Rum 2002 Barbados; Vintage Edition; Grand Terroir
fr_1325: Plantation Rum 2005 Barbados; Vintage Edition; Grand Terroir
fr_1326: Plantation Rum 2004 Panama; Vintage Edition; Grand Terroir
fr_1327: Plantation Rum 2009 Fiji; Vintage Edition; Grand Terroir
fr_1328: Plantation Rum 2004 Peru; Vintage Edition; Grand Terroir
fr_1329: Plantation Jamaican Rum; Xaymaca; Special Dry, Jamaicy; 100% pot Still Rum; Clarendon and Long Pond Distilleries
fr_1330: Plantation Barbados Rum; Old Artisanal Rum; Aged 5 Years
fr_1331: Plantation Barbados Rum; Old Artisanal Rum; Grande Reserve; Product of Barbados
fr_1332: Plantation Guatemala & Belize Rum Gran Añejo
fr_1335: Artisanal Rum Plantation; Original Dark; Double Aged Rum; 70 cl; 40% alc/vol; Barbados and Jamaica
fr_1343: Plantation Black Cask 1651; 700 ml; Rum; Trinidad, Belize, Barbados; 40% vol
fr_1344: Plantation Black Cask No. 3; 700 ml; Barbados; Rum; Guyana; 40% vol
fr_1406: Plantation Rum Black Cask; Double Aged Rum; 40% vol; Produce Barbados & Jamaica; 70 cl
fr_1407: Plantation Black Cask; Double Aged Rum; 40% vol; Product of Barbados & Fiji; Bottled by Maison Ferrand; 70 cl
fr_1408: Plantation Rum; Fiji Island; 2005
fr_1409: Plantation Rum; Jamaica, Clarendon MMW; 2003; 49.5% vol; 70 cl
fr_1410: Plantation Rum; Double Aged Rum; 70 cl; 40% vol; Isle of Fiji; Product of Fiji Island
fr_1411: Plantation Rum; Single Cask; Trinidad 1997; Distillery: Trinidad Distillers Limited; Maturation: 4 months in Kil... pea... whisky cask; Tropical Ageing: 5.5 years in Bourbon cask; Continental Ageing: 6 years in .... cask; Cask No: 06; Bottle No.: 064; Distilled in: 1997; 45.2% alc/vol; Prodct of Trinidad; 750 ml
fr_1412: Plantation Jamaican Rum; Xaymaca Special Dry; 100% Pot Still Rum; Product of Jamaica; Long Pond & Clarendon
fr_1346: Plantation Rum Single Cask; Guyana 17 years Old Rum; 15 years in bourbon cask; 2 years in French casks; Ancestral; 56.3% alc; Product of Guyana; 70 cl
fr_1347: Plantation Rum Single Cask; Specialy bottled for ...Club; Multi Island XO; Guyana, Barbados, Trinidad, ...; 10 years minimum in bourbon cask; 1 to 2 years in Piere Ferrand cask; 41.7% vol; Product of the Caribbean; 70 cl
fr_1348: Plantation Rum Single Cask; Réunion; Tradition ... Aróme; 12 years old; 10 years in bourbon cask; 1 to 2 years in Piere Ferrand cask; 51.9% vol; Product of la Réunion; 70 cl
fr_1349: Plantation Rum Single Cask; Réunion; 15 years old Tradition ...; 13 years in bourbon cask; 2 years in Ferrand cask; 46% vol; Product of la Réunion; 70 cl
fr_1350: Plantation Rum Single Cask Trinidad 15y; 10 years in bourbon cask; 5 years in Ferrand cask
fr_1333: Barbados Rum Plantation; XO; 20th Anniversary
fr_1341: XO; Barbados Rum Plantation; 20th Anniversary; Product of Barbados; Bottled by C. Ferrand; 40% vol; 70 cl
fr_1149: 20years; Extra Old; Plantation Premium Rum; Product of Barbados; 70 cl
fr741: Gran Añejo; Plantation Rum; Artisanal Rum from Guatemala; Guatemala; Bottled by C. Ferrand - 16130 Ars, France; Product of Guatemala; 42% vol; 70 cl
fr_1336: Artisanal Rum Plantation 3 Stars; Jamaica, Barbados, Trinidad
fr_1334: Artisanal Rum Plantation; 69%; Overproof Artisanal Rum; O.F.T.D.; Old Fashioned Traditional Dark; Master Blender; Barbados; Jamaica; Guyana; 69% vol; 70 cl
fr_1159: Artisanal Infusion Plantation; Pineapple Rich Plantation Original Dark Rum infused with Victorian Pineapple; Stiggins Fancy; 1824 Recipe; Journal of patents & Inventions; Original Dark; 750 ml; 40% alc by vol; Artisanal Caribbean Rum Infused with pineapple barks
fr_1337: Kaniche Rum; Artisanal Rum; Reserve; In order to obtain optimum elegance and complexity, this special Rum has been aged in Bourbon and French Brandy casks; 40% vol; Distilled in Barbados; Bottled by C. Ferrand 1630 Ars - France; 70 cl
fr_1338: Kaniche Rum; Artisanal Rum; Year 11 Old; Double Wood; In order to obtain optimum elegance and complexity, this special Rum has been aged in Bourbon casks and finished in old cognac casks; 40% vol; Distilled in Barbados; Imported; Bottled by C. Ferrand 1630 Ars - France; 70 cl
fr_1339: Kaniche Rum; Artisanal Rum; Year XO; Double Wood; In order to obtain optimum elegance and complexity, this special Rum has been aged in Bourbon casks and finished in an old Cognac casks; 40% vol; Distilled in Barbados; Imported; Bottled by C. Ferrand 1630 Ars - France; 70 cl; Imported; Distilled in Barbados
fr~10: Gran Añejo; Plantation Rum; Artisanal Rum from Guatemala; Guatemala; Bottled by C. Ferrand - 16130 Ars, France; Product of Guatemala; 42% vol; 70 cl
fr~11: Artisanal Rum Plantation 3 Stars; Jamaica, Barbados, Trinidad; Distilled in the three stars of the Caribbean and blended by the Cognac Ferrand Cellar Master at the Chateau de Banbannet; 41.2% vol; Bottled by C. Ferrand, 16130 Ars, France; 700 ml