Trader Vic's Products, San Francisco
Rum-Etiketten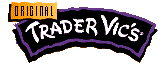 ---
Geschichte
Die Firma wurde in Jahr 1934 hergestellt.
[Die Quelle: Das Etikett]
---
Victor J. "Trader Vic" Bergeron packed more excitement, enjoyment and exotica into his 82 years than any three men.
It all started when Victor Jules Bergeron was a waiter at San Francisco's Fairmont Hotel and owned a grocery store on San Pablo Avenue in Oakland. His son - Victor, (Jr.) - grew up loving the food business, living with the family in an apartment above the store and helping out downstairs. A childhood accident cost him a leg, but left him with a penchant for telling colorful stories.
In 1932, with a nest egg of $700 and carpentry help from his wife's brothers - plus his mother's pot-bellied stove and oven - the ebullient Victor built a cozy pub across the street from the store and called it Hinky Dink's. His pungent vocabulary and ribald air made him a popular host, as did his potent tropical cocktail concoctions and delicious Americanized adaptations of Polynesian food.
Soon one of the most popular watering holes in Northern California's Bay Area, the place attracted sophisticated urbanites like writers Herb Caen and Lucien Beebe. By 1936, when Caen wittily wrote that the "best restaurant in San Francisco is in Oakland," Vic had become "The Trader" and Hinky Dink's had become "Trader Vic's," complete with a showpiece Chinese oven. Its South Pacific theme "intrigues everyone. You think of beaches and moonlight and pretty girls. It is complete escape," Vic said at the time. Among Trader Vic's more tantalizing legacies is the original Mai Tai, the bracingly refreshing rum cocktail he created at the restaurant in 1944 and introduced to the Hawaiian islands in the 1950s. Tahitian for "the very best," Mai Tai became the slogan for his entire operation.
In creating his new cocktail, Trader Vic employed what was becoming the ever-present hallmark of all his food and beverage recipes: a light touch, meant to enhance but never disguise nor overpower the fine original taste of his main ingredients. All of his recipes reflect the man's own personality: distinctive, lighthearted and memorable.
By 1946, the world had beaten a path to Vic's door, prompting Lucien Beebe to write in an introduction to "Trader Vic's Book of Food and Drink" published by Doubleday that year: "Trader Vic's is ... more than an Oakland institution. Its influence is as wide as the Pacific and as deep as a Myrtle Bank punch. Vic's trading post is long on atmosphere, and it is possible for the ambitious patron with a talent for chaos to get into more trouble with obsolete anchors, coiled hausers of boa-constrictor dimensions, fish nets, stuffed sharks... Hawaiian ceremonial costumes, tribal drums, boathooks and small bore cannon than the waiters can drag him out of in a week."
The Trader eventually opened 25 Polynesian-style restaurants around the world, and several Senor Pico Mexican restaurants. His son, Lynn Bergeron, eventually took over the restaurant operation and remains Chairman Emeritus of Trader Vic's Restaurant Company.
The Trader's eldest daughter, Jeanne B. Hittell, is retired, having served for many years on the Board of Directors and as Secretary/Treasurer of the Trader's companies. Daughter Yvonne E. Seely, is also retired after decades of dedication to charity work on behalf of Trader Vic's.
Son Victor Jules Bergeron III, known as Joe, is the retired President of Trader Vic's Food & Beverage Products. Joe launched this company in 1938 to translate the Trader's original recipes into products that could be marketed to other restaurants, bars and retail outlets worldwide. Under his guidance, Hot Buttered Rum and Tom & Jerry became the most-requested holiday drinks around the world. More than 40 of the unique products he developed are sold in 17 countries and 7 continents.
The operation of Trade Vic's companies is now firmly in the hands of the third generation of Bergerons. Grandchildren Peter Seely, Ted Hittell and Anne Hittell Fortuna run Trader Vic's Food & Beverage Products from an office in Emeryville, just down the road from the original restaurant location. This multinational company manufactures and handles the global distribution of the famous beverage mixes, syrups, dressings and sauces - including, starting in 1998, direct to consumers via a new catalog and this Website. Peter and Ted run day-to-day operations while Anne serves as chief financial officer; she is also secretary/treasurer of the Restaurant Company.
Today, Trader Vic's restaurants are operated under franchise agreements that preserve The Trader's principles of high quality, friendliness and fun. Each restaurant's architecture, Pacific Island decor, staffing - and, of course, food and beverage preparation - are under the direct control of this family-owned business.
Joe's daughter, Eve C. Bergeron, is Assistant Manager of the restaurant in the United Arab Emirate city of Dubai. Hans Richter serves as President and CEO of the Trader Vic's Restaurant Company, while Vice Presidents Jacky Laugenie and Rene Purro head the company's European and Asian divisions. Jerome Laugenie - Jacky's son - carries on The Trader's culinary traditions as Executive Chef. Jerome was schooled in France and England while his father ran the Trader Vic's restaurant in London. He joined Trader Vic's corporate operation as chef in 1993 and was named corporate executive chef in 1996.
Though others have stepped forward to claim the credit, steal some thunder or try to appropriate his legend, the simple fact is that there was only one man whose celebration of life, high spirits, grand food and adventure can lay claim to the nickname "The Trader." Today, under the watchful eyes of Trader Vic Bergeron's family, his legend - and his legacy of fine food and beverage products - lives on.
---
---
---
Hier finden Sie die Beschreibung der Etiketten
us151: Trader Vic's; copr. 1952 by Trader Vic; Rum and brandy; This fine rum and brandy has been espetially selected by Trader Vic. Bottled by Trader Vic's Products Co., San Francisco, Calif.
us_536: The Original Trader Vic's; Since 1934; Private Selection; Silver Rum
us_7: Trader Vic's; Mai Tai